DAILY ENCOURAGEMENT TUESDAY - TEACH US LORD!
The whole counsel of God concerning all things necessary for his own glory, man's salvation, faith and life is either expressly set down in Scripture or by good and necessary consequence may be deduced from Scripture, unto which nothing at anytime is to be added whether by new revelations of the Spirit or traditions of man. - Westminster Confession of Faith.
Teach me, LORD, what you want me to do, and lead me along a safe path, because I have many enemies. Don't abandon me to my enemies, who attack me with lies and threats. I know that I will live to see the LORD'S goodness in this present life. Trust in the LORD. Have faith, do not despair. Trust in the LORD. - Psa 27:11-14.
One of God's faithful missionaries, Allen Gardiner, experienced many physical difficulties and hardships throughout his service to the Savior. Despite his troubles, he said, "While God gives me strength, failure will not daunt me." In 1851, at the age of 57, he died of disease and starvation while serving on Picton Island at the southern tip of South America.
When his body was found, his diary lay nearby. It bore the record of hunger, thirst, wounds, and loneliness. The last entry in his little book showed the struggle of his shaking hand as he tried to write legibly. It read, "I am overwhelmed with a sense of the goodness of God." - Allen Gardiner.
We have heard this expression many, many times...Our God is a Good God! But the problem we have is, we hear it, we read it, we know it, but do we believe it? If we really believed it, we would see more victorious and confident Christians around us, but sadly in my experience, there are so few.

Most Christians I know, are trying to be financially prosperous, or trying to become a super, dooper, Christian Super person! But they are missing the point; as they buy the latest book, or attend the latest Seminar, or trying to have the best and biggest Church! And the point is... they need to stop trying, and BE TAUGHT BY THE LORD!

Teach me your ways, O LORD; make them known to me. Teach me to live according to your truth, for you are my God, who saves me. I always trust in you. Psa 25:4-5.
The Psalmist cries out for the LORD'S teaching! He pleads to be taught in the LORD'S ways, he desires to live according to the LORD'S truth, he recognises that he can only be rescued from his life of darkness, by the LORD, and he affirms his trust in the LORD!!
Where is our pleading today? Where are our desires today? Where is our recognition today? Where is our trust today? If we can answer these questions truthfully, and find that we are not pleading, have no desire, do recognise, and have no trust, then we desperately need the LORD'S teaching! TEACH US LORD!

Our future as Christians is the 'Goodness of the Lord!' Our help as Christians is the Goodness of the Lord, in the 'Land of the Living,' here and now!! God's Goodness flows from His passion for us!

God has promised us His Goodness! Find out for yourself how good the LORD is. Happy are those who find safety with him. – Psalm 34:8.
God has proven His Goodness for us!
In view of all this, what can we say? If God is for us, who can be against us? Certainly not God, who did not even keep back his own Son, but offered him for us all! He gave us his Son---will he not also freely give us all things? - Romans 8:32.
Often I have heard people say, "How good God is! We prayed that it would not rain for our church picnic, and look at the lovely weather!'" Yes, God is good when He sends good weather. But God was also good when He allowed my sister, Betsie, to starve to death before my eyes in a German concentration camp. I remember one occasion when I was very discouraged there. Everything around us was dark, and there was darkness in my heart.
I remember telling Betsie that I thought God had forgotten us. "No, Corrie," said Betsie, "He has not forgotten us. Remember His Word: 'For as the heavens are high above the earth, so great is His steadfast love toward those who fear Him.'" Corrie concludes, "There is an ocean of God's love available--there is plenty for everyone. May God grant you never to doubt that victorious love--whatever the circumstances." - Corrie Ten Boom.
How can we not cry out for the LORD'S teaching? How can we not cry out for the LORD'S truth? How can we not cry out to the Lord, that we believe in Him? How can we not cry out to the LORD, that we trust Him? How can we not cry out...TEACH US LORD?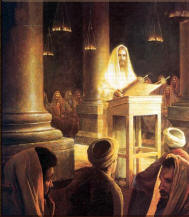 Loving Father, forgive me for trying to live my life in my own strength. Help me by the power of the Holy Spirit, to be taught by you, help me to learn your truth, and help me to trust you for all things pertaining to my life. Teach me Lord! In the wonderful name of Jesus. Amen!
GBYAY