DAILY ENCOURAGEMENT MONDAY - A HEART STARTER. #3.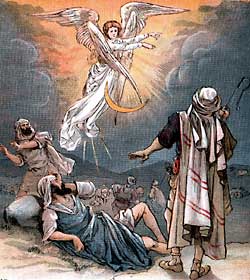 We come to know truth not only reason, but still more so through our hearts. - B. Pascal.
And they went with haste and found Mary and Joseph, and the baby lying in a manger. And when they saw it, they made known the saying that had been told them concerning this child. And all who heard it wondered at what the shepherds told them. But Mary treasured up all these things, pondering them in her heart. - Luke 2:16-19.

(ESV)
A little boy asked his mother where he came from, and also where she had come from as a baby. His mother gave him a tall tale about a beautiful white-feathered bird. The boy asked his grandmother the same question and received a variation on the bird story. Outside to his playmate he said, "You know, there hasn't been a normal birth in our family for three generations." - Howard Hendricks.
Another weekend has flown by and we face the start of another week! But, praise the Lord after that fantastic weekend of quality time with the family and friends, fabulous worship with our Christian families, we should be fired up and ready to go at another week! We don't need six cups of coffee to get us going; we have plenty of 'Heart Starters' in the Word of God. Hallelujah! Praise the wonderful and blessed Name of Jesus! See, we are excited already!


On a plaque marking Abraham Lincoln's birthplace near Hodgenville, Kentucky, is recorded this scrap of conversation: "Any news down 't the village, Ezry?" "Well, Squire McLain's gone t' Washington t' see Madison swore in, and ol' Spellman tells me this Bonaparte fella has captured most o' Spain. What's new out here, neighbor?" "Nuthin' nuthin' a'tall, 'cept fer a new baby born t' Tom Lincoln's. Nothin' ever happens out here."
Some events, whether birthdays in Hodgenville (or Bethlehem) or spiritual rebirth in a person's life, may not create much earthly splash, but those of lasting importance will eventually get the notice they deserve. - Source Unknown.
You have guessed right, this week's 'Heart Starter,' takes us to the birth of Jesus Christ. What can get us more excited than the birth of our Lord and Saviour Jesus Christ? There are only a few days to go before we celebrate with family and friends, the most wondrous event ever to happen in the whole of the world's history! Wow! It certainly gets the heart going! Think for one moment with me…

Our lord Jesus, came into the world as a vulnerable baby, born of a woman, and delivered in a stable! We are talking about God almighty in the flesh!
"Behold, the virgin shall conceive and bear a son, and they shall call his name Immanuel" (which means, God with us). - Mat 1:23.
This event boggles my mind; it is so hard to understand. He loved us so much; He put Himself in this position, in order to bring to us salvation! We who are from a sinful world, and yet He brought us deliverance from sin, and the evil one! I don't know about you but this makes my skin go all goose bumps, when I read this. Praise His wonderful Name!

These shepherds were the first preachers of the Gospel of Christ: and what was their text? Why, Glory to God in the highest heavens, and on earth peace and good will among men. This is the elegant and energetic saying which comprises the sum and substance of the Gospel of God.
This, and this only, is the message which all Christ's true pastors or shepherds bring to men. He who, while he professes the religion of Christ, disturbs society by his preaching's or writings, who excludes from the salvation of God all who hold not his religious or political creed, never knew the nature of the Gospel, and never felt its power or influence.
How can religious contentions, civil broils, or open wars, look that Gospel in the face which publishes nothing but glory to God, and peace and good will among men? Crusades for the recovery of a holy land so called, (by the way, latterly, the most unholy in the map of the world), and wars for the support of religion, are an insult to the Gospel, and blasphemy against God! – Adam Clarke's Commentary.
Mary treasured all the things that she heard about Jesus, and pondered all these things in her heart. What a mighty woman of God, what a servant, what a Christian! How excited she must have been, to be brought from virtual anonymity, and thrust into the pinnacle of life! Wow! If this can't get your heart started, nothing will! And we are all part of it! So, when we think of His birth, let us treasure everything we know about Jesus, and ponder them in our heart! Hallelujah! Praise His mighty Name, King of kings, and Lord of lords!

He began His ministry by being hungry, yet He is the Bread of Life.
Jesus ended His earthly ministry by being thirsty, yet He is the Living Water.
Jesus was weary, yet He is our rest.
Jesus paid tribute, yet He is the King.
Jesus was accused of having a demon, yet He cast out demons.
Jesus wept, yet He wipes away our tears.
Jesus was sold for thirty pieces of silver, yet He redeemed the world.
Jesus was brought as a lamb to the slaughter, yet He is the Good Shepherd.
Jesus died, yet by His death He destroyed the power of death.
- Gregory of Nazianzus, A.D. 381.
Remember, that there is a reason for the season; it's the birthday of Jesus Christ! Let's tell everyone we come into contact with, about His eternal life that He offers, to anyone who would believe in Him! Make someone's Christmas the best one ever!
Loving Father, I thank you for the beautiful weekend that I had. Help me by the power of the Holy Spirit, to rejoice in the birth of your only son, and to treasure, and ponder all these things in my heart.. Help me Lord, to share the gospel of the Lord Jesus Christ, in this Christmas season. Use me Lord, to bring someone into your Kingdom, and make it their best Christmas ever!
Be encouraged!
GBYAY